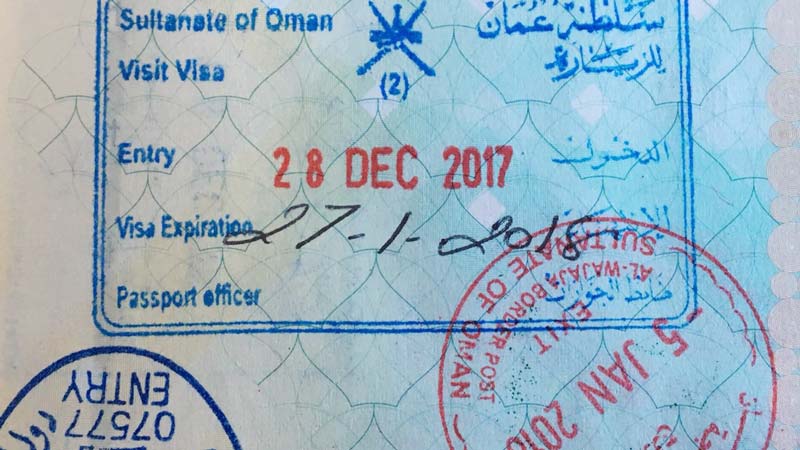 Visa applications for Oman are available online.
All air, land and sea travel to and from the Sultanate of Oman is suspended as from Tuesday December 22nd at 01:00 hours for a period of one week. The air, land and sea borders have been closed to passengers with the exception to freight planes, ships and trucks. Anyone wishing to travel to or from Oman is advised to check the situation again in the next few days.
In line with national efforts to promote and ease services for tourists visiting Oman, nationals of 103 countries and regions are exempt from entry visas for stays up to ten days.
The exemption is subject to certain requirements including a prior and confirmed hotel booking, health insurance, and a return ticket.
The countries and regions whose nationals are exempt from entry visas to the Sultanate for a period of ten days, subject to certain requirements, are listed below.
Albania
Algeria
Andorra
Argentina
Armenia
Australia
Austria
Azerbaijan
Belarus
Belgium
Bhutan
Bolivia
Bosnia and Herzegovina
Brazil
Brunei Darussalam
Bulgaria
Canada
Chile
China (includes Hong Kong and Macau)
Colombia
Costa Rica
Croatia
Cuba
Cyprus
Czech Republic
Denmark
Ecuador
Estonia
Eygpt
Finland
France
French Guinea
Georgia
Germany
Greece
Guatemala
Honduras
Hungary
Iceland
India
Indonesia
Iran
Ireland
Italy
Japan
Jordan
Kazakhstan
Kyrgyzstan
Laos
Latvia
Lebanon
Liechtenstein
Lithuania
Luxembourg
Macedonia
Malaysia
Maldives
Malta
Mauritania
Mexico
Moldova
Monaco
Morocco
Netherlands
New Zealand
Nicaragua
Norway
Panama
Paraguay
Peru
Poland
Portugal
Romania
Russia
Salvador
San Marino
Serbia
Seychelles
Singapore
Slovakia
Slovenia
South Africa
South Korea
Spain
Suriname
Sweden
Switzerland
Taiwan
Tajikistan
Thailand
Tunisia
Turkey
Turkmenistan
United Kingdom
Ukraine
Uruguay
United States
Uzbekistan
Vatican
Venezuela
Vietnam
Citizens of GCC countries (the Kingdom of Bahrain, the State of Kuwait, the State of Qatar, the Kingdom of Saudi Arabia and the United Arab Emirates) do not require visas to enter Oman.
The process of obtaining a visa for visitors to Oman is managed by the Royal Oman Police (ROP).
Citizens of other nationalities can establish their visa options via the ROP's eVisa website by clicking here.
You can apply for a visa via the ROP's eVisa website by clicking here.
This website will guide you through the process of applying online for an appropriate visa to enter Oman. There are four video guides to help you complete the online visa application process, which you can find by scrolling down the home page of the ROP's eVisa website.
There are several different types of visa for visitors to Oman. For those coming to Oman as tourists, the Tourist Visit Visa (Unsponsored) will usually be appropriate. For others, a different type of visa may be needed.
For more information about the types of visa for visitors to Oman please click here.
For more information on the Online Visa Application service you can also visit the general ROP website here.
If you have any questions about the visa process you can contact the eVisa Call centre:
+968 2429 0942
+968 2429 0826