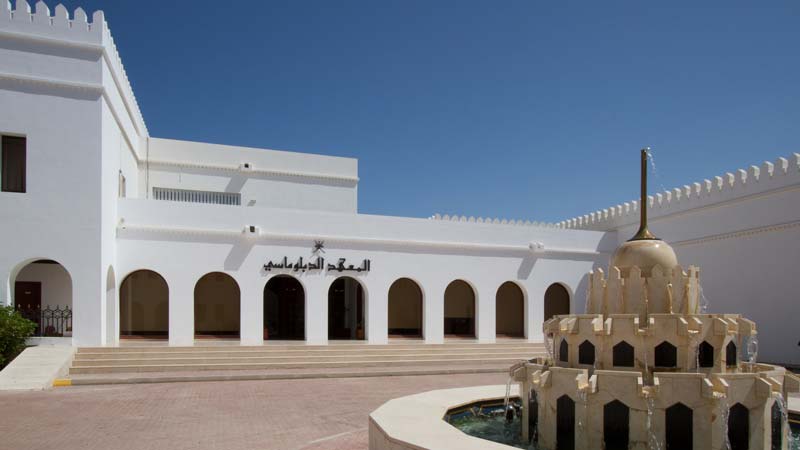 The Diplomatic Institute develops the skills of Foreign Ministry staff.
The Diplomatic Institute is responsible for training Foreign Ministry staff. Its aim is to develop their capabilities and refine their skills so that they can deal effectively and efficiently with the political, economic, social and technological aspects of diplomacy.
It also trains staff from other institutions whose work involves diplomacy.
The Institute is a demonstration of the Foreign Ministry's commitment to developing all its staff to the highest possible level.
It forms part of the Ministry's plans for the ongoing development of the skills and talent of Ministry staff at home and abroad.
Programmes
The Institute, which was established in November 1991, offers general and specialised courses as well as lectures, seminars and workshops.
Through this programme it provides the Diplomatic Corps in Muscat with a forum in which to engage with important issues of the day.
It also provides training to new Foreign Ministry staff so that they understand the modern diplomatic environment and can meet the challenges it presents. It delivers intensive courses on the Sultanate's foreign policy principles, international politics and diplomacy as well as the functions and operation of Oman's Ministries and other official institutions.
The Institute also trains Foreign Ministry staff to speak and write foreign languages as an essential skill for all effective diplomats.
The Institute offers special training for diplomats who are about to be posted to the Sultanate's embassies and missions overseas. Special courses are also provided for the spouses of diplomats to be posted abroad, familiarising them with the Sultanate's foreign policy principles as well as diplomatic rules, regulations and social etiquette.
Each year the Institute also provides training courses for junior and senior Ministry staff.
Teaching and assessment
Courses at the Institute are delivered through lectures, seminars and workshops. The Institute takes care to keep students motivated and working hard by assigning research projects that are then formally assessed.
Experienced Foreign Ministry diplomats, Ministers, Under Secretaries, senior officials from other government bodies are all invited to deliver lectures. The Institute also extends invitations to distinguished diplomats, eminent scholars and scientists from other countries and both government and non-government officials from brotherly and friendly countries, to share their knowledge and expertise.
Translation and research
In addition to fulfilling its training mission, the Diplomatic Institute also undertakes research work and prepares studies. It also translates, assesses and analyses reports and studies prepared by international academic institutions and think-tanks.