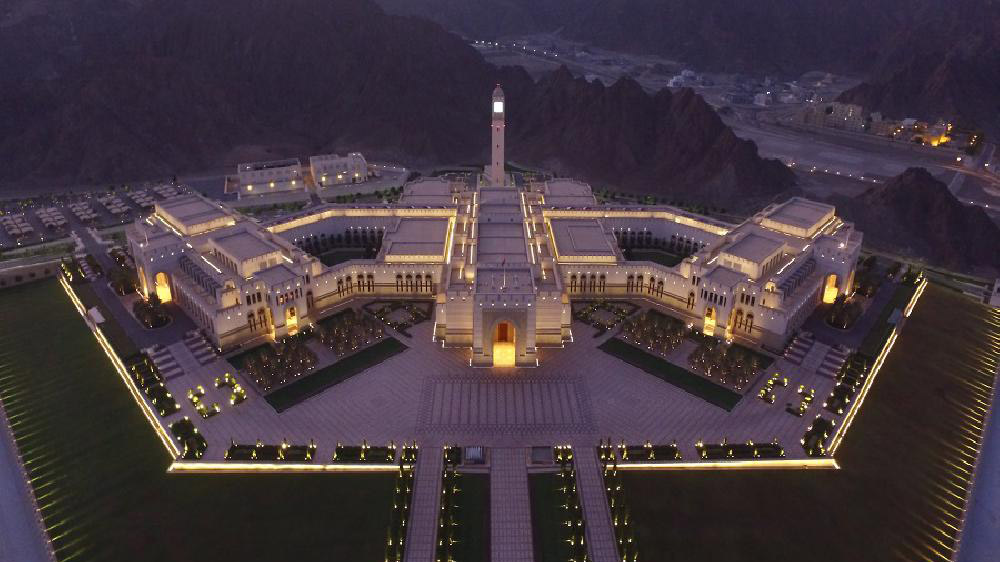 The Majlis building – home to both Majlis A'Dawla and Majlis A'Shura
This article was written before the promulgation of the Council of Oman Law by Royal Decree No 7/2021 by His Majesty Sultan Haitham on January 11th, 2021. It will be updated shortly.
The State Council (Majlis A'Dawla) was established after the issuance of the Royal Decree No. 86/97 on the establishment of Oman Council, which consists of the State Council (Majlis A' Dawla) and A'Shura Council (Majlis A'Shura).
It enjoys a legal personality and financial and administrative independence. It is composed of a number of members not exceeding the number of members of the Shura Council. The Members of the State Council are appointed by a royal decree. It is one of the pillars of the Oman Council.
The Council of Oman represents a practical embodiment of the concept of Shura which values the power of genuine dialogue and reflects Omanis belief in the power of consensus and collaboration. It represents a modernisation of long-standing Omani social and cultural values.
State Council
Majlis A'Dawla (State Council) has 85 members, appointed for four-year terms by His Majesty the Sultan. The membership is drawn from Omanis, both men and women, aged over 40, who have an established reputation for their competence and experience.
Majlis A'Dawla is responsible for approving or amending draft laws sent to it from the lower house, Majlis A'Shura, before submitting them to His Majesty the Sultan.
It may also propose draft laws to the Government for study before they are passed to the Majlis A'Shura for consideration.
Majlis A'Dawla also plays an important role in the review of Oman's annual budget and development plans.
Membership
Members of Majlis A'Dawla are selected from among, for example, former Ministers, ambassadors, senior judges, university professors and business leaders. They may also include retired military officers and distinguished figures from the fields of science, culture and the arts, as well as those who have performed distinguished services to the Sultanate.
Members must be Omani nationals, but they may not be serving members of any security or military authority. They must not have a criminal record for offences of dishonesty or moral turpitude and they must not have any civil judgments against them.